Not sure what machine to buy? Read the

Buying Guide

.
Classic models, Motor driven, high pressure
TDP-5 Electric Pill Press Machine
Only use the highest quality parts, The most rigorous standards of manufacture and efficiency. So your TDP 5 will continue to produce pharmaceutical-grade tablets for years to come. The EZtableting's most popular tablet press because it offers improvements in quality and more improbability than other presses.
| | |
| --- | --- |
| Max. pressure | 50kn |
| Max. pressing diameter | 16mm |
| Max. pressing thickness | 6mm |
| Max. filling depth | 15mm |
| Production capacity | 5000 tablets/hour |
| Weight | 125kg |
| External dimensions | 300mm×190mm×480mm |
| Motors | 0.75KW 110V or 220V |
| EU warehouse stock numbers | 5 |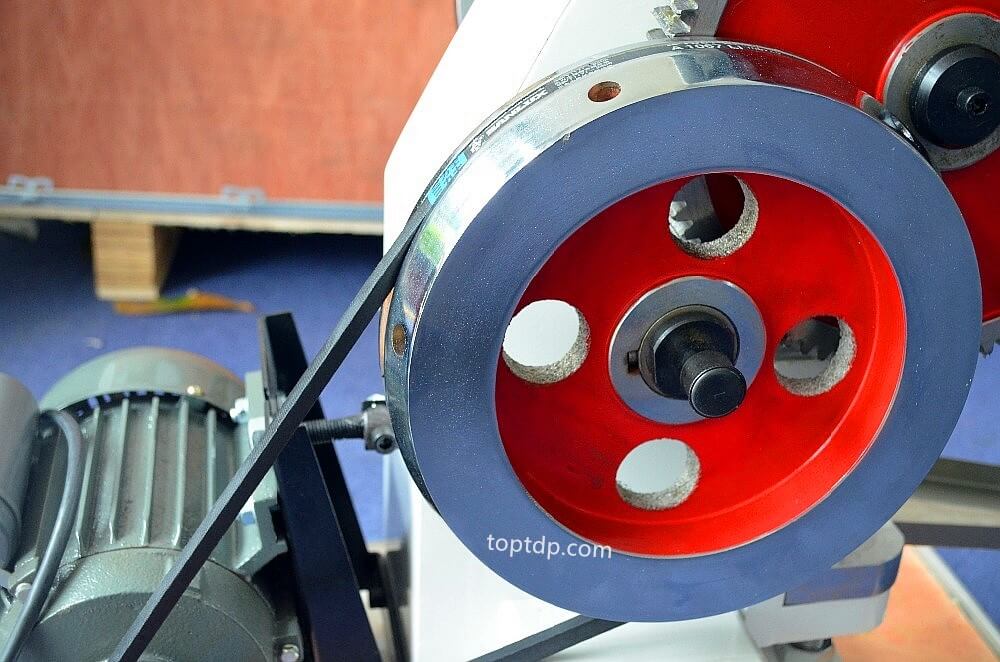 Detail View
The TDP-5 tablet press is our top-selling tablet press because it's able to produce pharmaceutical-grade tablets that meet strict requirements with ease.
TDP-5 details view
The TDP-5 is the classic model in our line, designed for the production of tablets such as OTC drugs, vitamins or supplements. It features a stable construction to ensure durability under heavy use, while providing precise control of the compression force depending on the type of product you want to produce. A machine designed from start to finish specifically for tablet applications.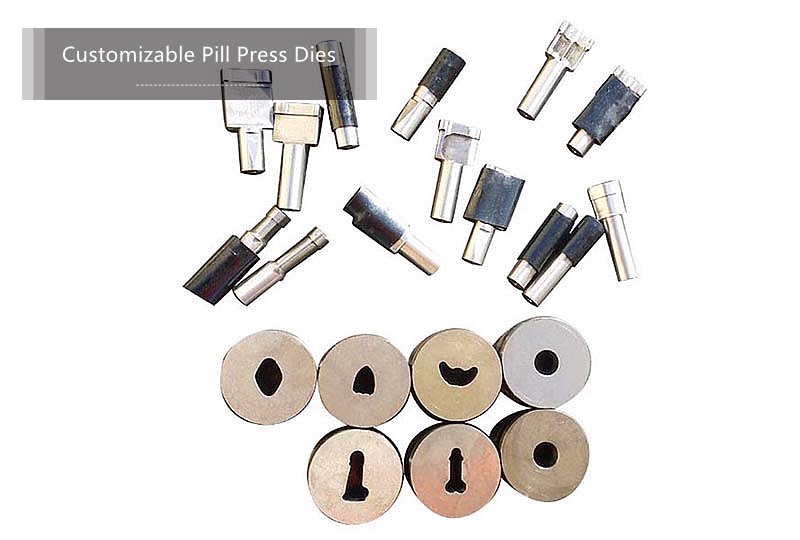 Customizable Pill Press Dies
To fit various tablet sizes. These molds are designed to produce uniform weight and size tablets, which is important for quality control. This way, the customer will know they're getting a product that meets their standards every time without any surprises or extra costs involved with changing out different sized molds as needed over time. The custom design also allows customers to create products in an endless variety of shapes, logos, and textures while maintaining consistency on each part due to the mold's ability to be precisely calibrated throughout production processes by using software engineering tools such as software CAD/3D programs.
FAQ About Pill Press Machine
Does Those pill press machines provide a free tutorial?

This machine offers free training. After the purchase of the machine, we provide a video, picture, text tutorial, if necessary to provide 1 to 1 guidance.
How long does it take for the machine to reach the delivery address?

We can deliver the machine within one week for European customers if stock is available in our German warehouse.
In other areas, Shipping starts within 48 hours of payment. Then usually 7-15 working days for delivery. The average time is 12 working days.
Will I receive a die or do I have to buy it separately? Which shape and size are they?

Yes, each machine comes with a round mold. You can choose from diameters of 4-12 mm.
Or choose our in-stock molds.
If you would like, you can personalize it with your logo or letters, but it will require 2-4 weeks.
I want to make medical-grade and food-grade products on those pill press machines. Is this possible?

Yes, Both the food and pharmaceutical industries have established guidelines for safe-use surfaces, and they are manufactured from a combination of materials including stainless steel, chromed brass, and stainless steel for your tools. As such, they are 100% compliant.
Which parts are wearing parts? Do I need to purchase spare parts for my appliance?

The most frequently damaged part of this machine is the boot, which is in contact with the middle part of the mold. It is made of brass with a soft texture, so it protects the mold from damage in case of a collision. Wear and tear will occur over time.
What-sized particles are best suited for this machine?

Typically, the Suggested particle size is between 80 and 60 mesh; if it is more nuanced than this, you can suffer more significant losses. If the particle is that large, it may not flow as smoothly through the machine if it's trying to enter the hole. Every powder varies, so you'll want to try several combinations to see what works best for them.
What type of payment methods do you take? Is there any way to do an escrow system just a way to ensure my investment?

Multiple payment methods are accepted.

Credit card and debit card payments.(The transaction is conducted through a secured platform.)
After placing an order and going to the account screen there will be a form. After filling it out. A payment link will be sent manually to your email address within 24 hours.

Cryptocurrency payments, such as BTC XMR.
Our website has a payment interface for cryptocurrencies.
If you wish to transfer funds without a record, please contact us.

Due to Paypal's policy, Paypal payments are not currently supported.
Please click to contact the seller to inquire.